Everyone says they're going to get organized in the new year, but it can be hard to stick to it! Check out our tips, or watch the video, from professional home organizer Bridges Conner on some useful items to help you get and stay organized in the new year.
We're starting with your bathroom sink, where things are often thrown on the shelf, and it can be hard to see everything. Using an "Under Sink Organizer," you can add extra space to your cabinets and create vertical space to store items. They are also expandable and have optional baskets that slot in to hold things so that they will fit your space and work around your piping. Whenever you're organizing, remember to always pull everything out, purge what you don't love, sort what you're keeping, and then you can re-organize them back into your space.
Moving on to your closet, we're organizing handbags. Utilize a vertical plastic hanger where you can slot in your purses. Keeping them vertical keeps them visible. You can easily see and grab your handbags without it taking up a lot of space.
Another great organizer for your closet is an over the door shoe organizer. You can use them for anything, including shoes. The clear organizers allow you to see everything stored inside and are perfect for storing belts, scarves, jewelry, shoes, hats and gloves, socks. These organizers utilize the back of the space on your closet door, so they don't use space that you're likely not already taking advantage of.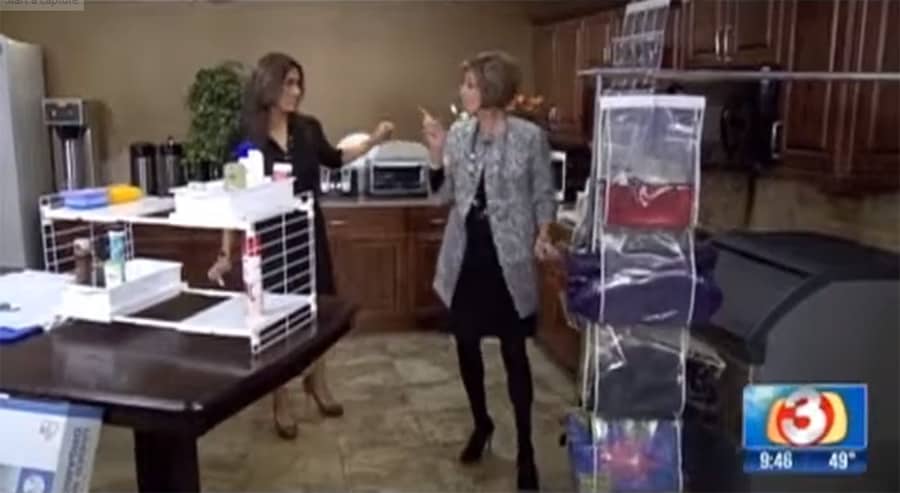 One of Bridges' favorite items is the Flip n' Fold. This helps keep your shirts organized vertically so that you can see them, rather than stacking them on top of each other. If they're on top of each other, you don't know what's on the bottom. After you fold them with the Flip n' Fold, roll them over one more time and put them vertically in a row in your drawers.
If you'd like some help getting your closet or bathroom storage organized, give professional home organizer Bridges Conner a call at 480-297-7355, or contact us for a free consultation.