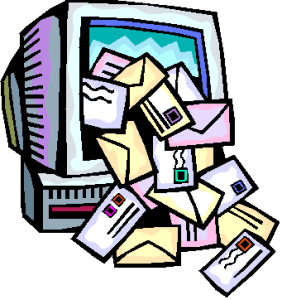 Have you ever wondered why you seem to be buried in your electronic files and can't get organized? Here's why – it is estimated that the average person receives around 120 emails every day. And if you think you are not organized now, it will soon become more of a challenge since this number is expected to rise to approximately 140 emails each day by the year 2018. Do you have days when your emails feel insurmountable and it seems impossible to keep them organized? Don't despair! Summer is the perfect time when things slow down a bit to work on some simple organization that will help make your life easy breezy.
These are some quick organizing tips to incorporate into your daily schedule to help decrease the electronic clutter in your life. Give it a try and block out that 15 minutes every day to organize and you will begin to see the difference almost immediately.
Unclutter and organize your electronic files 15 min every day
Create categories for electronic files
Practice the 3 D's….Delete, Deal, Defer (with deadlines)
Use clear and concise subject lines (helps categorize & organize)
Reply sooner instead of delaying responses/decisions
The following information is based on some of the great tips provided by Susan Stewart, Owner, Perfectly Placed Organization and Design
Start over:     Is your inbox full of hundreds of unread emails? It may be time to start fresh and start over now! Create several folders on your desktop and label them email archives and date them. Drag all of the emails from your inbox into those folders. After 3-6 months you will realize that you no longer need the information and can drag the folder into the trash.
Unsubscribe:     Electronic clutter occurs when things are coming in at a faster rate than they are going out. It seemed like a good idea when you signed up for all those blogs, updates, newsletters and sales promotions but now it's way too much! Select 1-3 that are essential and unsubscribe to the rest. If you have either a gmail or yahoo account, you can use unroll.me to unsubscribe to many of your unwanted emails all at once.
Separate:     Create a separate email address or folder in your inbox for emails that are not urgent. If you are using folders to separate your emails, you can do it manually or create rules on your computer to set up folders automatically for you. As an example, to learn more about how to set up these parameters, simply Google "how to set up rules in apple mail" or whatever email system you use.
Use the 3D approach:     Now that your inbox is uncluttered, more manageable and organized, what can you do to maintain and organize? Maintain your electronic organization with these 3 actions: delete, deal or defer. If you don't need it, delete it. If you can deal with it in 3 minutes or less, deal with it. If it will take longer than 3 minutes to deal with, defer it with a deadline. This application, followup.cc, is great for deferring things to a time when you can deal with it.
Use a system for emails that require action:     You can use a combination of followup.cc for emails that require action. Other great options are Asana, Wunderlist and Evernote. Whatever option you choose to use, it is important to remain consistent and committed to your selected system.
Remember it is about creating a lifelong behavior that will change your life.  Electronic file organization is an important part of having an organized life! Don't wait to find those 15 minutes to organize; you will be happy you did.